^ Back in April 2022 we didn't even have automatic object extraction (blue dot action menu), but we were already pretty excited…
Introduction
Object extraction and enrichment brings the links and widgets from OSINT-tool.com right into the page you're on. This means you don't need to switch sites to start enriching your data, and in turn that means faster and more effective investigations. Basically, the OSINT-tool.com Chrome extension extracts the text from every web page you visit and then parses it for well-known entities like email addresses, aliases, hashtags, and a few others. It then decorates these right there in the page you're looking at – firstly by marking it in the text and secondly by adding an action menu to it. This menu can be accessed by hovering on the blue dot that appears on the left top corner of the entity:

By default, the marking of the entities is switched off – we found it could be distracting, but you can easily change the behavior in the extraction configuration section:
Let's switch on the marking of names (see above) and then revisit this page. You can see that names are now highlighted:

Using Links
The menu that appears – the blue dot menu – contains a few sections. The first (and default) section shows you links. When you click on the menu item it will open the site on a new tab: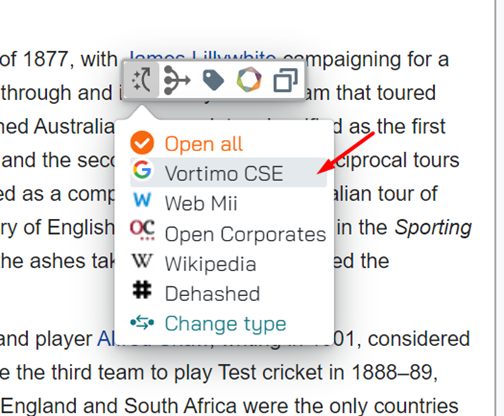 Clicking here opens the Vortimo CSE, with the name we selected pre-populated: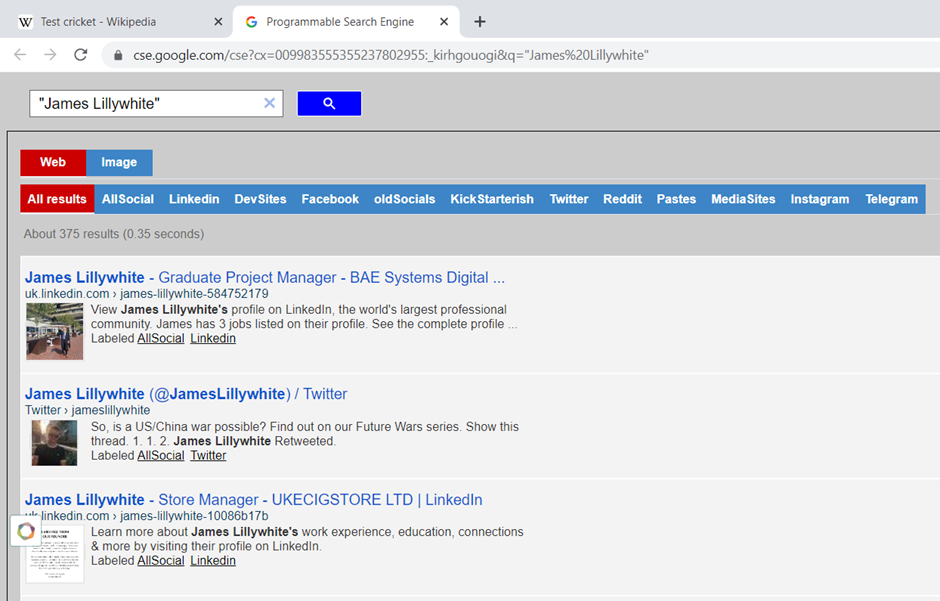 Setting up the action menu
The items visible in the action menu are the links that were checked on the
OSINT-tool.com
website.
This means you can pick your favorites links for every type, and you won't bloat the menu with menu items that's not applicable to you.
The defaults should be OK, but let's see – we go to
OSINT-tool.com
and let's say pick the alias type and enable the Tinder link. If we go to the Twitter timeline and select an alias - the Tinder menu item now appears.
Before: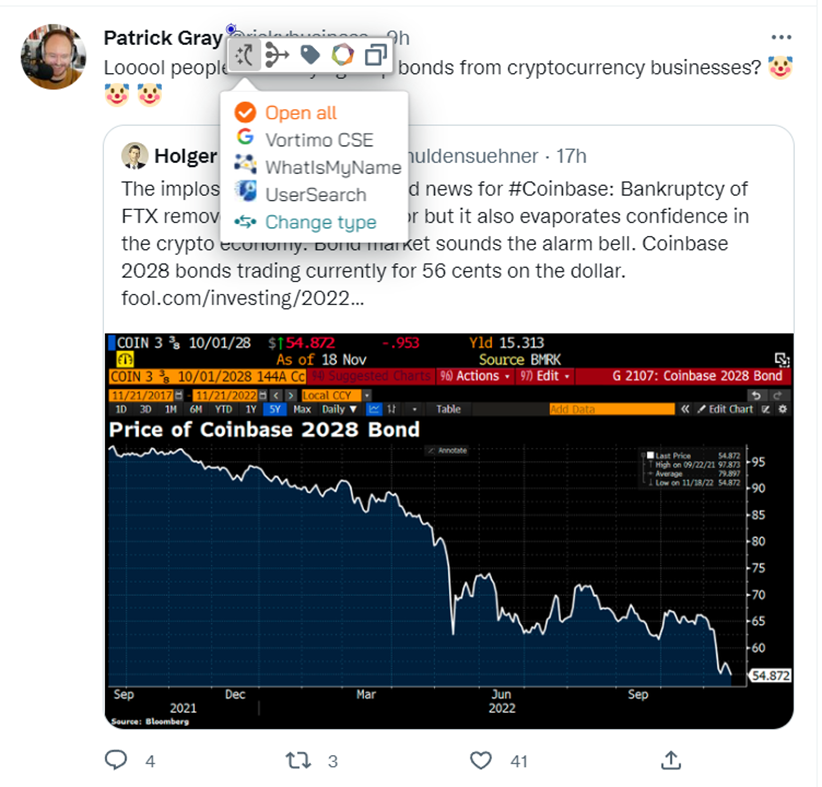 Now we go to
osint-tool.com
, select the Alias type and edit which links are shown. Like so: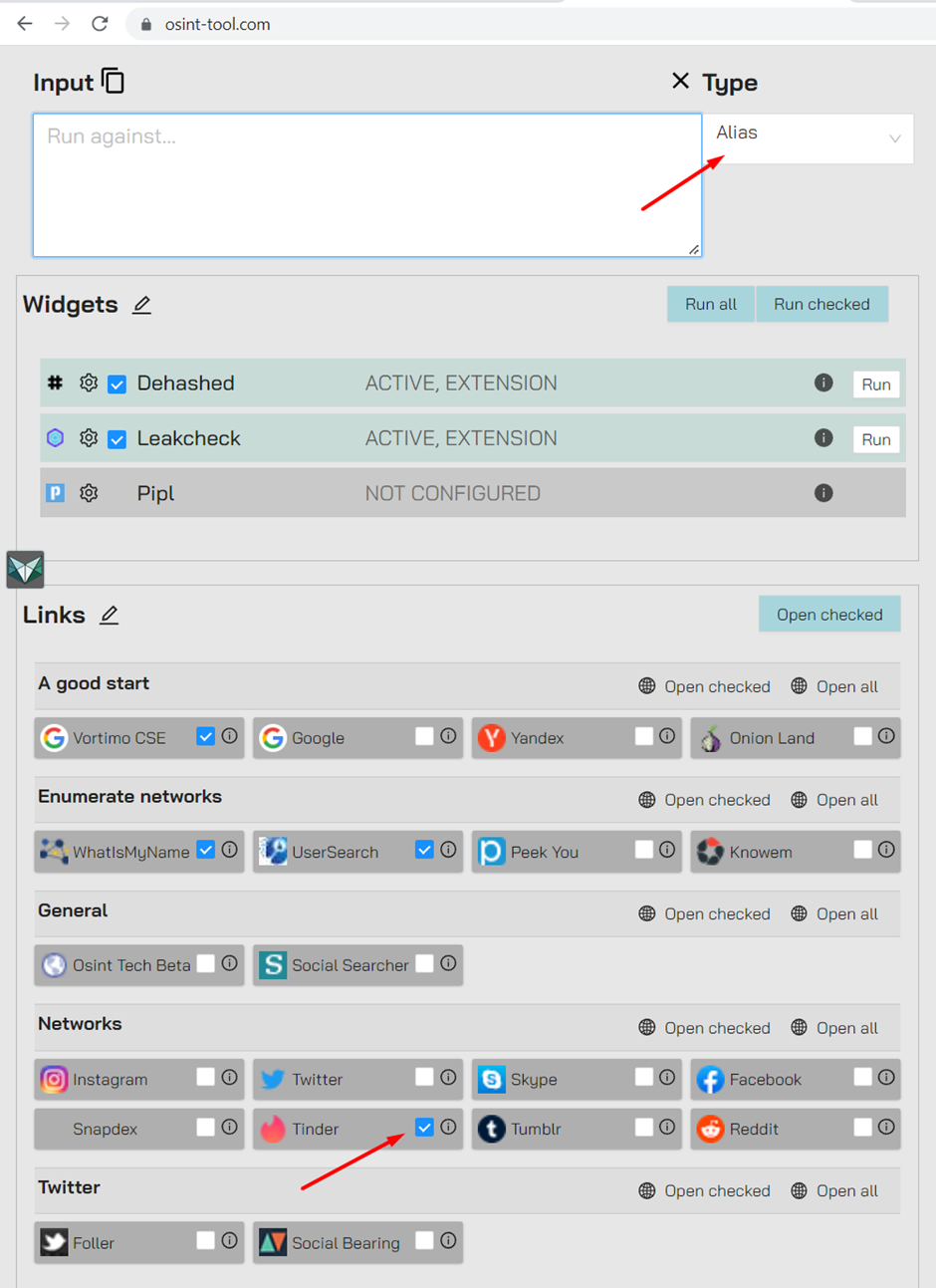 After the edit, the 'Tinder' action is visible in the action menu: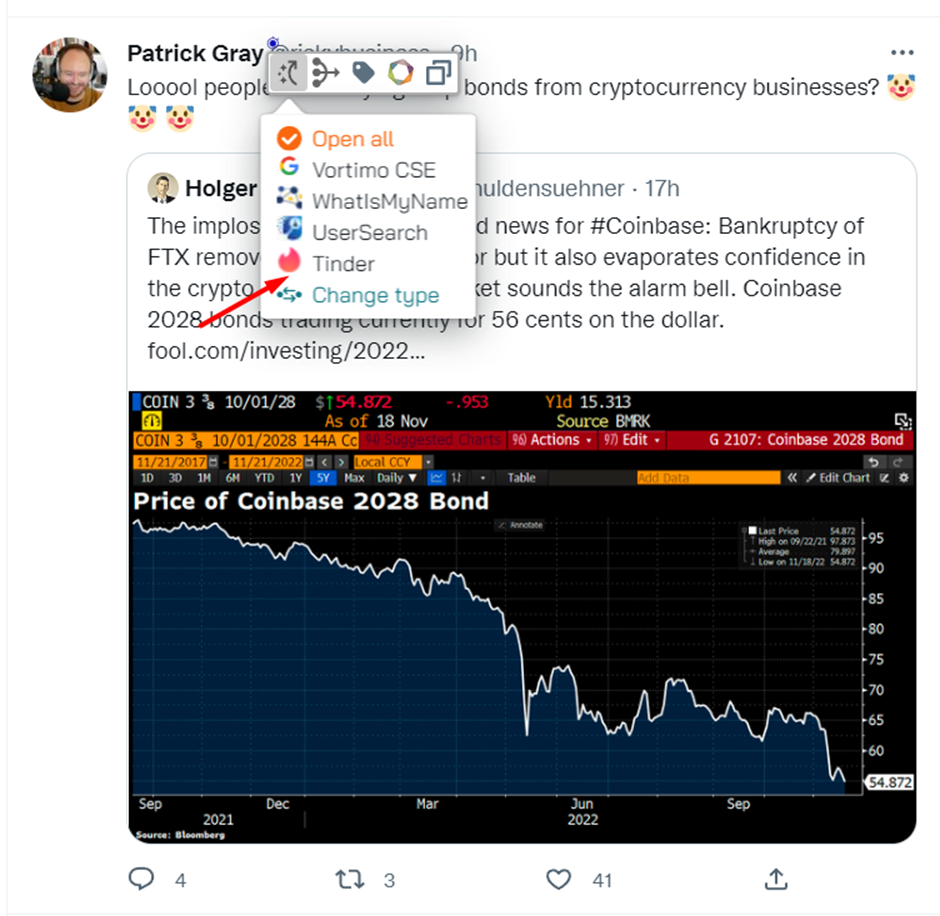 Using widgets
The second item in the object pop-up menu is widgets – this works pretty much in the same way except that the output of the widget is displayed in a modal over the page: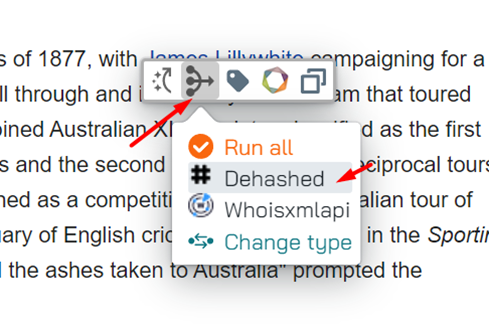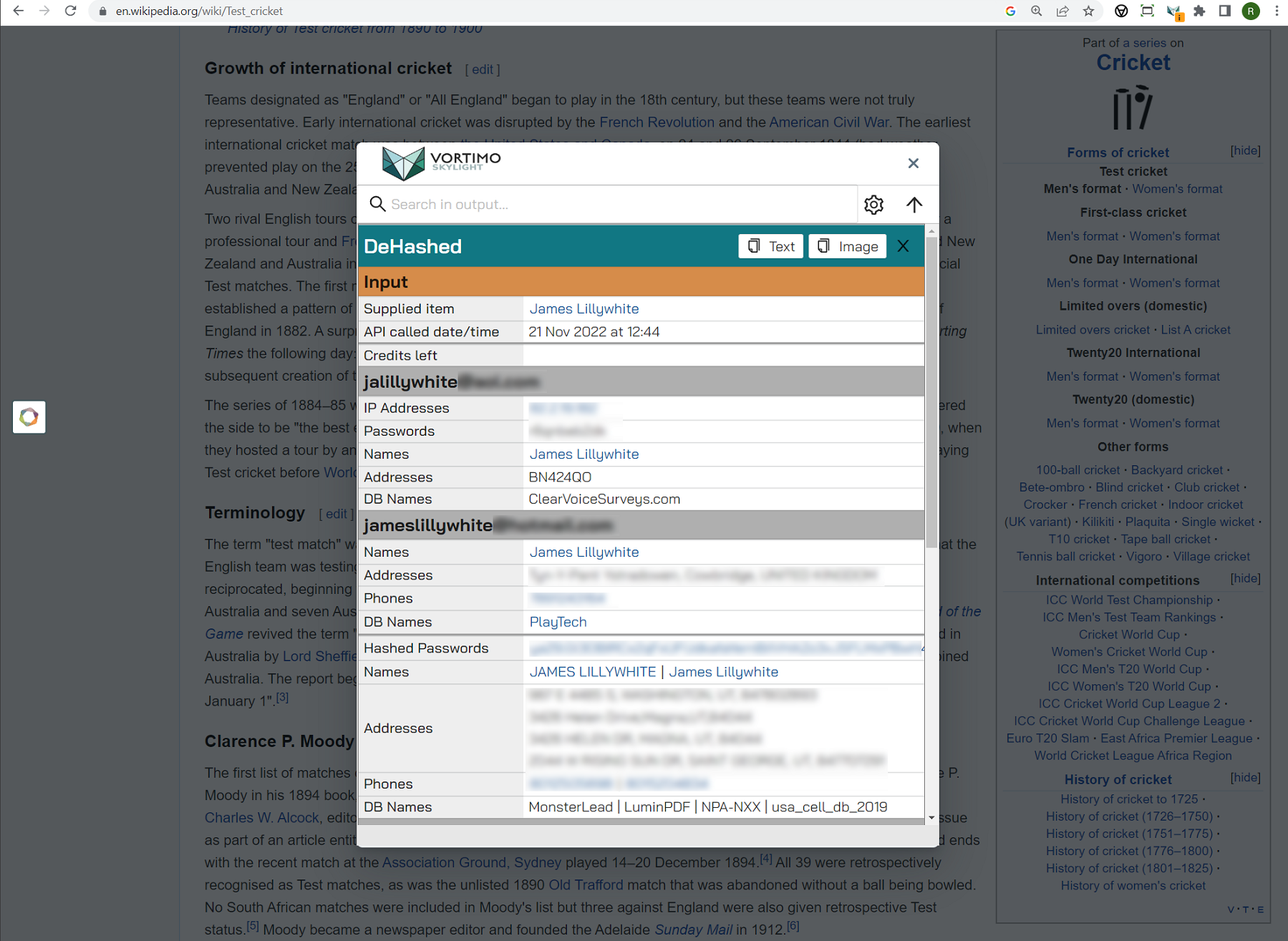 Don't worry – you won't lose the results – the output of the widget is still recorded on the right-hand panel of the OSINT-tool.com website: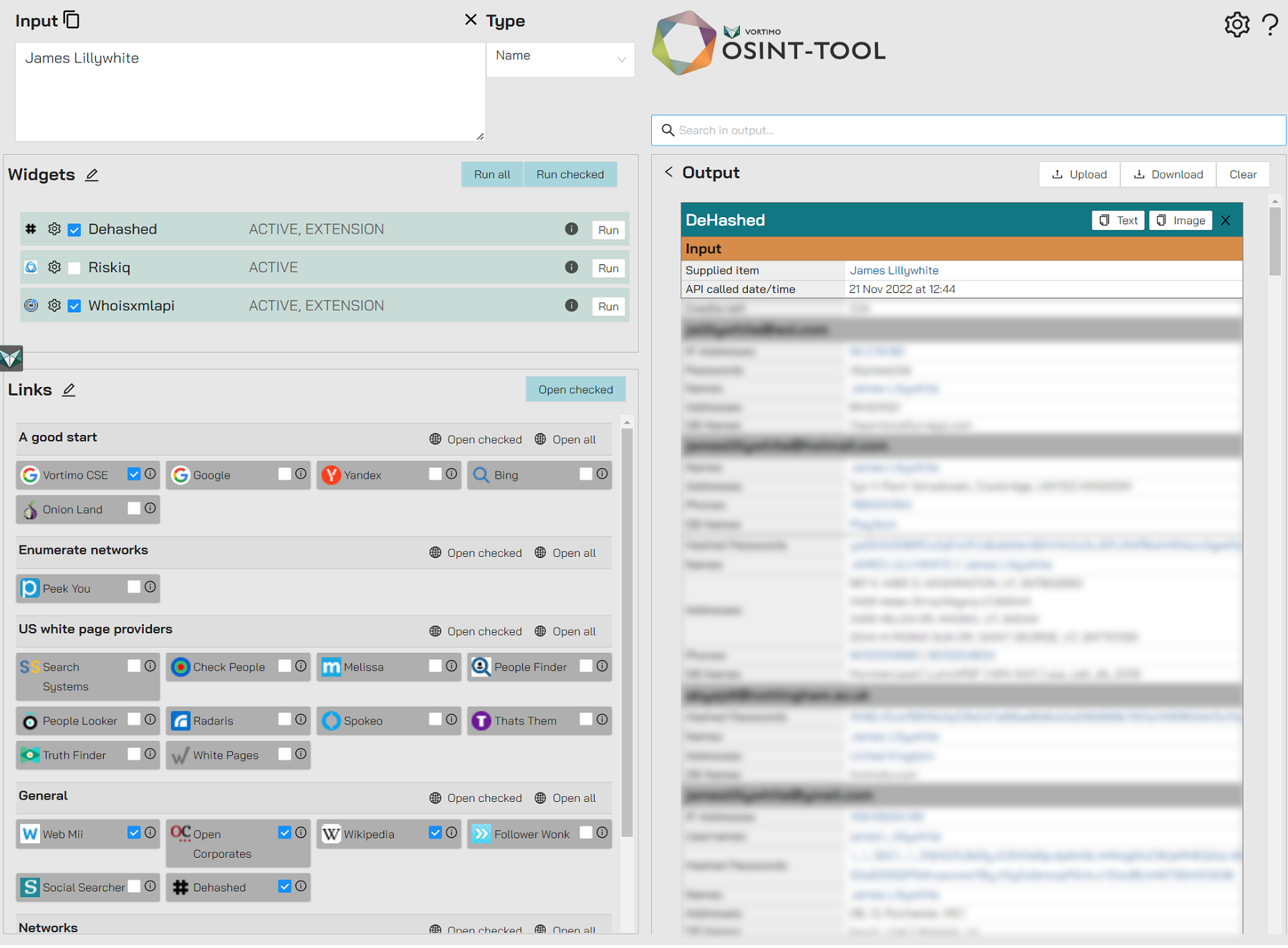 Reclassification
If, for some reason, the extension mis-classify the item you're looking at, or if it does not know the type, you can always classify it yourself: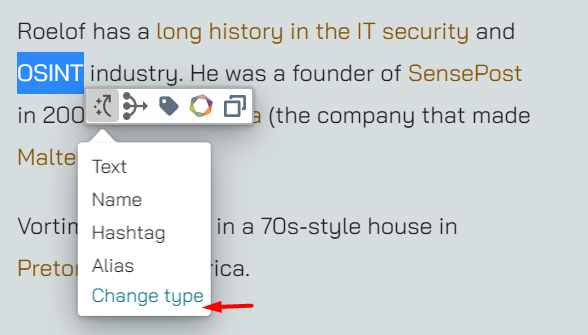 In the screenshot above the extension does not the type of the text 'OSINT'. But it knows it's not a IP number or an email address etc. so it removes those from the list of what it can be.
You can ALWAYS force the type for 1) previously classified text 2) free text by clicking on the 'Change Type' item at the bottom of the list. Let's assume we want to treat the text 'Vortimo' as a GPS coordinate…because - you REALLY just want to: